Jurassic World: Dominion Dominates Fandom Wikis - The Loop
Play Sound
"

The waterworks facility takes drainage from the Residential Area, purifies it in the Forest Area, circulates it into the Man-Made Sea Area. This intricate maze-like structure has proved to be a convenient hunting ground for the mutants who reside there.

"

— 

Waterworks Area

 • Blaster Master Zero Website
Area 4, also known as the Waterworks Area, is the fourth stage of Blaster Master, Blaster Master: Enemy Below, and Blaster Master Zero. A maze of underground pipes and shallow water that hampers SOPHIA III's movement, it presents enough navigational headaches without the mutants getting in the way as well. Area 4 is connected to Area 1 in all appearances, however, it is never connected to Area 3. It is connected to Area 5 in Blaster Master and Blaster Master Zero, requiring the Key/Key 1. In Blaster Master: Enemy Below, it connects to Area 7, requiring the Wall 1 maneuver.
Enemies
[
]
Sideview
[
]
Top-Down View
[
]
Mutant
Blaster
8
1
4
6
8
Long Range
4
1
2
3
4
Penetrator
4
1
2
3
2
Diffusion
4; 2
1
2; 1
2; 1
4; 2
Auto
20
3
10
15
20
Reflect
2; 1
N/A
N/A
3; 2
4; 2
Striker
2
1
1
2
2
Flame
10
2
5
8
10
Wave
8; 3
1
4; 2
6; 2
8; 3
Mutant
Blaster
8
N/A
9
N/A
8
Long Range
N/A
N/A
N/A
N/A
N/A
Penetrator
N/A
N/A
N/A
N/A
N/A
Diffusion
N/A
N/A
N/A
N/A
4; 2
Auto
N/A
N/A
N/A
N/A
N/A
Reflect
4; 2
N/A
N/A
N/A
N/A
Striker
N/A
N/A
N/A
N/A
N/A
Flame
N/A
N/A
12
N/A
N/A
Wave
N/A
N/A
N/A
N/A
N/A
Grenade Bomb
2
1
2
1
2
Ignition Bomb
1
1
2
1
1
Bosses
[
]
| Name | Tadroll's Snack Time | Spark Salamander |
| --- | --- | --- |
| Image | | |
| Blaster | 4 | 110* |
| Long Range | 2 | 110 |
| Penetrator | 2 | 110 |
| Diffusion | 2; 1 | 55*; 21* |
| Auto | 10 | 275* |
| Reflect | N/A | N/A |
| Striker | 1 | 55 |
| Flame | 5 | 69* |
| Wave | 4; 2 | 220; 74 |
*This Gun Level is twice as effective as expected.
*Value assumed based on presumed damage of attack and health of boss.
*Value is theoretical.
**This is only possible in Nintendo Switch multiplayer, as sub-weapon Capsules cannot be obtained during this fight through any other means.
*Value assumed based on presumed damage of attack and health of boss.
Items
[
]
Related Quotes
[
]
"
Eve: Oh... Hey, Jason. I found Fred's signal again.
Jason: Excellent. Where's it coming from?
Eve: Let's see... seems like it's pretty far away.
Jason: Looks like it's the Glacier Area. OK, let's make our way over there.

"

— 

Enter Area 4
"
Eve: What the...? What's this all about? Hey Jason, come have a look at this.
Jason: (The monitor showed a bunch of mutants gathering around the Glacier Area.) The mutants are... joining up with each other? What's going on here?
Eve: ... ... ...
Jason: Eve?
Eve: Oh... I'm sorry. I got this data at the same time I received Fred's signal.
Jason: (Hmmm... I feel like there's gotta be some meaning behind all this.)
Eve: (What's going on...? I feel this horrible premonition... like as if I... know something.) ...?! Ahhh...!!
Jason: Eve? What's wrong?
Eve: I feel like I'm remembering something!
Jason: Take it easy, Eve! Don't feel like you have to force it.
Eve: Hah, hah... but...
Jason: Why don't you rest for a bit? I can do this on my own for now.
Eve: ... Yeah... I'll do that. It'll be nice to relax for a while.
Jason: Yeah, please do. (Up until now, the mutants have been just scattered about... but seeing them gathering like this makes me think that something is up.)

"

— 

Mutants gathering (Talk with Eve)
"
Jason: This Waterworks Area feels more like a maze than anything...
Eve: It's really easy to forget which places are connected to each other.
Jason: You feeling better now, Eve?
Eve: Yeah I am, now that I rested for a bit... sorry I wasn't able to remember anything.
Jason: It's all good, don't worry about it. I should've been paying more attention... sorry.
Eve: Too much apologizing around here, hehe. But hey, everything's OK now, right?
Jason: Yup. But... if you feel like you are getting some memories back, just take it easy on yourself, OK?
Eve: Geez, you're such a worrywart... But, thank you. I will.

"

— 

Not able to remember (Talk with Eve)
"
Jason: We got a huge mutant here! (... Maybe it's my imagination, but I can't help but think that... It kinda looks like Fred...)
Eve: Ewww... this thing is nasty! It's so slimy...
Jason: Eve... totally get what you're saying, but let's focus here.
Eve: Uugh... right. Here we go!

"

— 

Ribbiroll encounter
"
Eve: Looks like this is the security program that opens the shutters in the Waterworks Area.
Jason: Right on... Looks like we'll be able to remove the security and pry some more shutters open.
Eve: Yup. I'll install the security program into your Blaster Rifle. You don't even have to exit SOPHIA, just get close to the shutters and you'll be able crack the security. However, if SOPHIA can't get close to a lock, you'll have to access them on foot to get them open.
Jason: Got it. Thank you. After all this, how are things going over in the Glacier Area?
Eve: Hang on just a sec. ... Looks like there's even more of them now than there was before. Besides, Fred's signal still hasn't moved. But those mutants gathering...
Jason: There's a chance they might be after something. Let's get over there as quickly as we can.

"

— 

Acquire Key 1
"
Jason: So she's really an android... (There's no way we'd ever be able to make an android like her with the technical capabilities we have on Earth right now. An AI that has not just emotions, but the ability to think and act on its own is still just a dream. Makes me wonder just how technologically advanced Eve's home planet is. I can only imagine at this point, though.)
Eve: If you're gonna stare like that, I'm gonna wonder just what in the world you're thinking about...
Jason: Ahh, sorry about that. Man, I really can't see you as anything but a normal human.
Eve: ...... Are you saying that you like chicks who are robot-like?
Jason: Nope, I think the way you are now is good...
Eve: I... I see... Well, that's good. Hm? Why do I think that's good...?

"

— 

Jason wonders about Eve; Revisit Area 4 (Talk with Eve)
"

A map of the Waterworks Area (Press R on the Weapon Select Screen to view)

"

— 

MAP 4

 • Blaster Master Zero
Other Appearances
[
]
Boss
[
]
Items
[
]
Trivia
[
]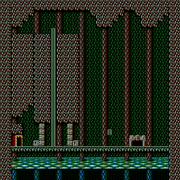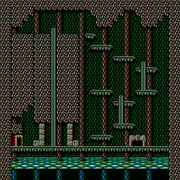 Blaster Master's connection from Area 4 to Area 5 alters a sequence from MetaFight wherein the pilot character must make a leap of faith to catch a ladder in midair while navigating to the shutter unlocked with the Key. This was seen as an unfair run-ender given the arcade-style life count and the lack of sensitivity of the NES controller. Since Blaster Master Zero boasts unlimited retries, this sequence is reinstated in its exit from Area 4, although the ladder is now more than one tile in height, rusted ladder is featured in the background to note its location from above, and undershooting means landing in water, which is completely safe.