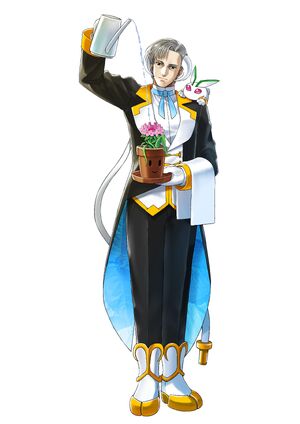 Kenwood is the Support Droid for Kanna and their Metal Attacker Eir, debuting in Blaster Master Zero 2.
Summary
[
]
Unlike most Support Droids guiding Metal Attackers to mutant-ravaged worlds, Kenwood had zero luck reaching a sapient pilot for Eir on Planet Stranga. Pushed to the ends of his patience, he dug Kanna out of the ground, resolving to raise her into a suitable pilot and a "proper lady".
He at least got the first part down right, as her impulsive challenge of Jason and Gaia-SOPHIA led to an explosive battle between the two tanks, and Kanna herself developed an aptitude for chemistry and pharmacology, using her own head and the assistance of Yacopu as a proving ground for medicines and other concoctions. Continuing to serve the Eir team, Kenwood serves as its diplomatic arm in addition to his ongoing role as Kanna's caretaker.
Trivia
[
]
Kenwood and Leibniz are the only new characters introduce in Blaster Master Zero 2 to be not a reference to a past Sunsoft game.
External Links
[
]
Kenwood lore on Inti Creates EN Twitter