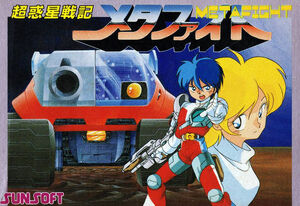 MetaFight (超惑星戦記 メタファイト Chô Wakusei Senki Metafight lit. "Super Planet Military History: Meta Fight") is a game developed by Tokai Engineering and Sunsoft; this was the original incarnation of Blaster Master, in which Kane Gardner drives the vehicle Metal Attacker on the planet Sophia III, on a quest to eliminate the alien leader Goez. Metal Attacker was designed by Dr. Jennifer Cornet.
It was released in June 17, 1988, and localized in the US in November of 1988, and April 25, 1991 in Europe.
Story
[
]
The story begins in 2052, in the Epsilon Galaxy, where the planet Sophia the 3rd lies. Goez, the conqueror of many other worlds and self-proclaimed "god of the universe," invades the system with the forces of the Invem Dark Star Cluster. The NORA Science Academy, located in a satellite orbiting near Sophia the 3rd, creates the Metal Attacker, a mobile battle tank. Kane Gardner, a genius boy pilot, was drafted to pilot the tank against the forces of Goez.
Metal Attacker
[
]
Metal Attacker (and Sophia 3rd by extension) is given these stats in the manual:
Overall Length: 6.5m (21.3 ft)
Overall Height: 4.0m (13.1 ft)
Overall Width: 6.0m (19.7 ft)
Substantial Weight: 150 tons
Highest Output: 15,000 ps
Cockpit: 1 Person
Armored Material Properties: Super Steel Alloy Sophianium (Titanium for Sophia 3rd)
Trivia
[
]
The lore from this game was added to the Blaster Master Zero Trilogy.
In Other Media
[
]
MetaFight was featured as the game challenge in a 2013 episode of the Japanese variety show GameCenter CX, starring comedian Shinya Arino of the comedy duo Yoiko. After 14 hours of gameplay, with an extensive amount of time spent attempting to defeat Z-88 (Photophage in Blaster Master) in Area 3 (over 4 hours), he unfortunately wasn't able to complete the game, as the extent of his progress was making it to the Area 7 boss, Fire Geroll (Enhanced Fred in Blaster Master).