Jurassic World: Dominion Dominates Fandom Wikis - The Loop
Play Sound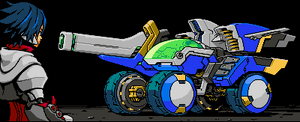 Sophia Zero (alt: "Sophia ZERO") is an upgraded model of Sophia 3rd introduced in Blaster Master Zero that can only be obtained by collecting every single upgrade in the game (including all Maps and, for EX Characters and Destroyer Mode, dummy upgrades and Life Ups) and defeating the Underworld Lord at the end of Area 8.
It is typically available exclusively for use in Area 9, but may be brought into the main Underground after beating the game by starting a new file in Unlimited Mode.
Features
[
]
Mobility-wise, Sophia Zero boasts equal parameters to a fully upgraded Sophia 3rd, including full operation of the Hover Pack, Dive Module, and Wall Climb. It is also capable of using the Dive Module to navigate low-gravity spaces within Area 9, and "surface" from same without needing to touch an adjacent block surface; it is unclear whether these are properties inherent to the vehicle or the distorted space.
Main Cannon
[
]
The most drastic improvement over Sophia 3rd comes in Sophia Zero's main armament. Its Crusher Shot has been empowered to deal ~9.3x damage relative to Sophia 3rd's Crusher Shot; in addition almost all charge shot variants of the Crusher Shot are fired without actually charging, most with greatly improved capabilities.
Subweapons
[
]
Almost every subweapon aboard Sophia Zero is drastically improved versus its baseline counterpart.
Maneuvers
[
]
Sophia Zero is inherently able to move at full speed along any surface, even in water and low-gravity spaces, and its Dive Module is equipped with a thruster for navigating low-gravity spaces. In addition, both air maneuver options aboard Sophia Zero have been empowered relative to their counterparts on Sophia 3rd:
Appearances
[
]
Trivia
[
]